Since the world shut down in 2020, I've generally used a delivery service to get our groceries. To say I love it is an understatement. It is so fast, easy, and they normally do a great job. Today, however, I decided I would actually go to the grocery store to get our groceries.
I walked in and immediately was like a kid in a candy store. I saw things I didn't even know I needed or existed and almost started throwing them into my cart when I remembered our theme for the month, self-control.
"Oh yeah, there's that," I thought to myself. "OK, Lord, help me to stick to my list and have self-control as I buzz through this store."
The Holy Spirit reigned me in a few times and in the end, I didn't get too distracted or sidetracked with the many options. I saved myself time and money and was surprisingly grateful we were focusing on the forgotten fruit of self-control this month, because who knows how loaded down my cart would be otherwise!
Now this is a seemingly minor space where the fruit of self-control is helpful, but what about all the other areas we have the opportunity to exercise self-control?? I came up with four major areas where self-control can be applied and verses to help us when we are tempted. (Keep reading and you will find three ways to increase self-control in which ever area we struggle with the most. )
THOUGHTS
ACTIONS
TIME
WORDS
As we discussed in this month's newsletter, the definition of self control is: restraint exercised over one's own impulses, emotions or desires. So let's remember that as we go through these areas.
THOUGHTS: I immediately think of how unhealthy thoughts often get the best of me. Whether it's rehashing a past conversation or worrying about a future event, I need the Lord to redirect my thoughts on a daily basis so they are self-controlled and pleasing to him. This also includes our emotions- anger, bitterness, jealousy, pride, insecurity. None of these produce the righteousness of God. A verse to help: Philippians 4:8 (see graphic). My dad taught me T.H.J.P.L. to remember this verse- it's so helpful! Click here for a past post if thoughts are an area you struggle in. Also, Romans 12:2 ~ "Do not conform to the pattern of this world but be transformed by the renewing of your mind."
ACTIONS: Whew. This encompasses a lot. What we do often becomes who we are. Are we drunkards? Gluttonous? Lazy? Crazy busy all the time with no margin or rest? Do we spend our money wisely or flippantly? Do we spend more money than we make racking up the credit card bills? How is our driving? Do we follow directions and honor rules both on and off the road? Has yelling at the kids become a habit? Are our bodies sexually pure? Do we treat our bodies as temples of the Living God?
This world will tell you to be whoever you want and do whatever you want…but there is no self control in that. To be governed by the flesh means death, but to be guided by the Spirit means life and life to the fullest ~ which is what God wants for us. Our appetites- are they hungry for God or things of this world? Nothing will satisfy our desires and appetites but Jesus and His Word. We honor the Lord when we are self-controlled in our actions. A verse to help: 1 Corinthians 6:19-20 and Ephesians 5:1 (see graphics).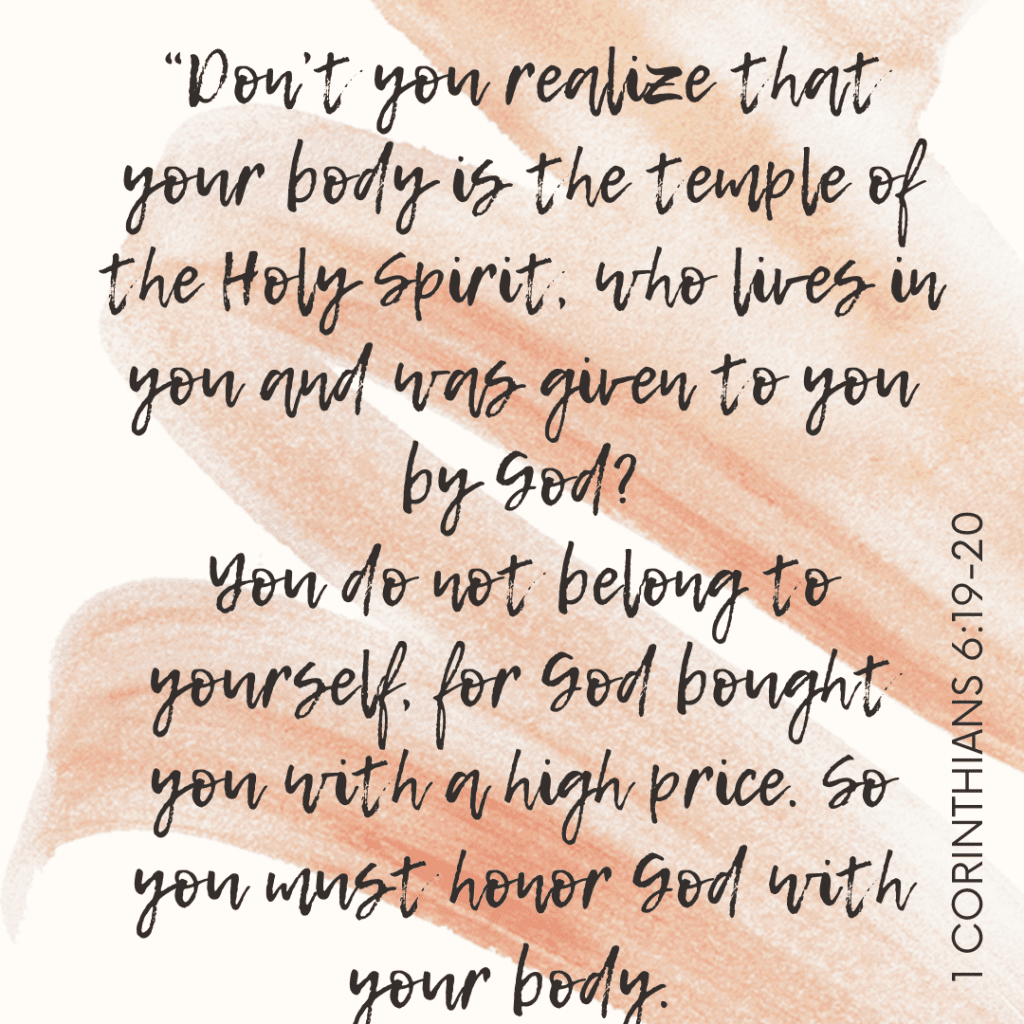 TIME: We are only given so much time on this earth and in our days. God has given us the roadmap for time- to rest, to devote ourselves to prayer, to be watchful and thankful. He has given us a rhythm for each day; a time to sleep and a time to be awake. We can do too much of one and not enough of the other. Our bodies need adequate rest to be renewed, refreshed and their best.
I need self-control in my time because I get sucked into things that don't really matter. TV shows, Facebook, Instagram, sometimes the cooking Tik Toks I watch turn unto funny videos and I just can't stop. Before I know it, I've wasted 30 minutes doing nothing. When I could've been doing something like dishes, laundry, praying, studying or writing. I need self-control in my time so I can be a good steward of what I have been given. Verses to encourage: Psalms 90:12 and Colossians 4:2 (see graphics).
WORDS: Whether spoken or typed with our fingers, our words matter. Do they give life or tear down? As a parent I have so much power in my words; they carry so much weight with my children. I long to build them up and not tear them down so need the Lord to bridle and shut my mouth often. I long to encourage my husband and not nag him. This takes self-control in my speech as well.
Are we prone to cussing? Vulgar language? Using the Lord's name in vain? Are we quick to criticize family members?
In the last few years, we see so much lack of self-control in all the social media posts with opinions, justifications and criticisms. Words are typed that would never be said to one's face and it's just a free for all of argumentative, mindless chatter.
Speaking of mindless chatter, what about gossip? It takes self-control to not retell juicy details about others or jump into a condemning conversation. I tell my children this about fighting but it can be applied here too– "Don't be the one to start it and always be the one to stop it." The gossip can stop with us if we allow the Spirit to do so.
Verses to cling to: Proverbs 18:21 and James 1:19.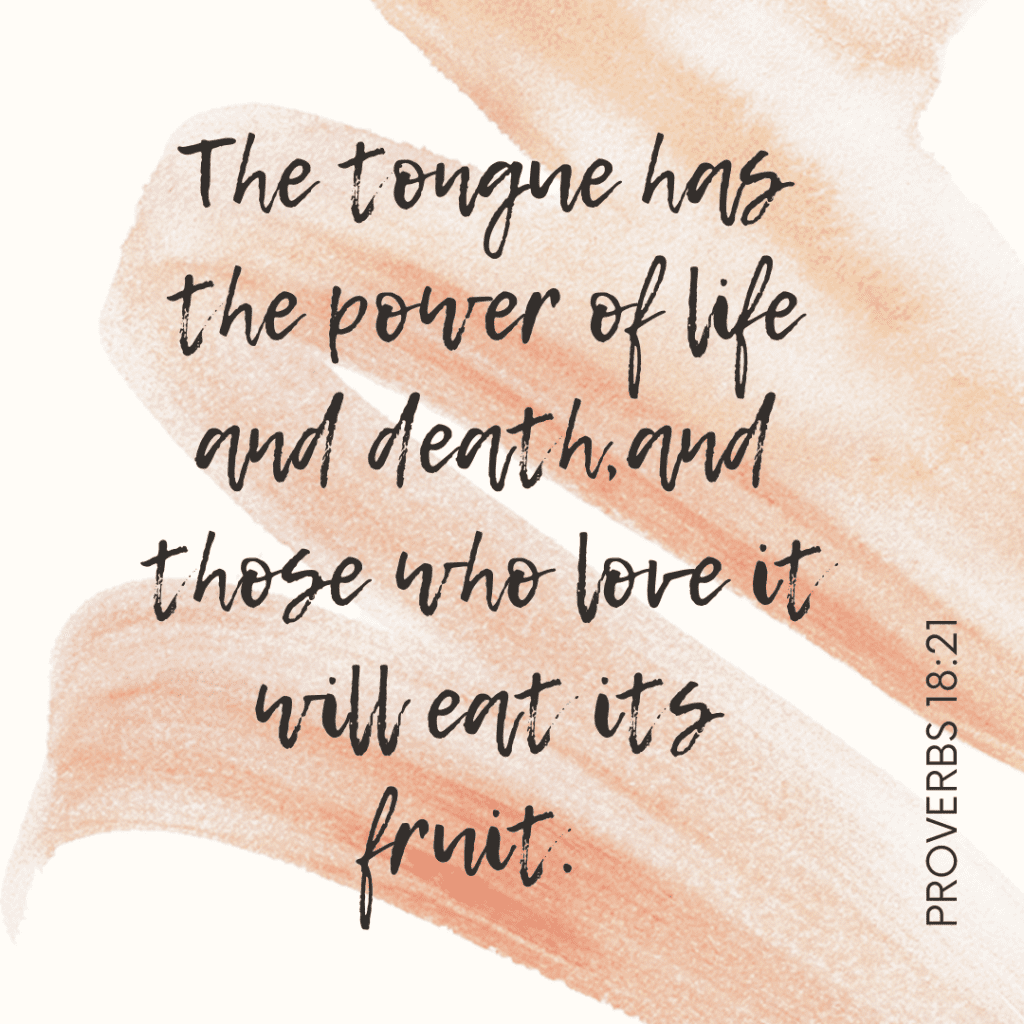 OK, are you still with me? Thank you if so. This isn't fun for anyone, but it's refining and strengthening our walk with Jesus. It would be easy to write about how much Jesus loves us and forgives us but I can't just proclaim His grace without speaking the truth in love too. And know I am ALWAYS preaching to my own heart first and also know that anything I teach on here- I am tested on and have to work out/walk out (with fear and trembling a lot of the time!).
When we lack self-control we hurt ourselves and others. We cannot fully obtain this fruit without resting, surrendering and abiding in Christ to fulfill us. The world lacks self-control. We, as believers, have His Spirit to guide us into lives controlled by Him. This isn't a life of perfection because that isn't possible, but a life of repentance and looking to him to help us. This can't be found in our own strength but only through he power of Him- the power that resides in each believer. Oh thank you Jesus for this power!
Self-control is a sign that Christ is in us; a self-controlled life is a Spirit-controlled life. Oh how I want this life!
THREE WAYS TO INCREASE SELF CONTROL:
Acknowledge our weakness in whatever area He is convicting us
Confess sin
Continually pray for the power to overcome
NO temptation is too great that He won't provide a way out. And He is always the way out. Seek, See and Savor Him in our aspiring to live self-controlled, God-honoring lives for Him.
No temptation has overtaken you except what is common to mankind. And God is faithful; he will not let you be tempted beyond what you can bear. But when you are tempted, he will also provide a way out so that you can endure it.

1 Corinthians 10:13
---
So now, as we enter into Thanksgiving (literally and figurately) may we feast on Jesus and His Word first, not the dressing, cakes and the pies…May our appetites be full with Him so we don't seek fulfillment in turkey and cranberry sauce. May we be thankful and stop when we feel full. Help us live lives worthy of the callings we have received. May our thoughts, actions, words and how we spend our time line up with God's will for our lives! Now to Him who is able! AMEN!
Love you all- let me know your thoughts on how you are focusing on self-control this month?!