Today my husband and I celebrate 18 years of marriage. Wow. We really were babies when we tied the knot and had no idea what true love was really about. But we have learned over the years and are still learning as we go. It's not always been perfect (what marriage is?) but I can say it's been special and neat. Even the hard has taught us of who we are and who God calls us to be.
One day I'd love to elaborate on a few of the hard seasons, so to help others walking a similar journey, but for today I will stick to a light and lovely post. Maybe even a little sappy, but maybe it will encourage you wherever you are in your marriage.
We celebrated this weekend with a night away at our lakehouse, which we needed more than we knew. Since the virus we haven't had our weekly date nights, and it really does make a difference. We've not been as connected, or ONE lately.
I bought him his favorite cake and meant to buy two candles, a 1 and an 8, but forgot. I searched the junk drawer at the lake house and found two candles, both 1's. I thought, well that's not going to work...and then I thought again.
Oh yes, it will work and be even more perfect than a 1 and an 8.
"And they shall become one flesh…" Genesis 2:24
ONE. When we marry a person we become one. It's biblical and beautiful, but difficult to let go of ourselves enough to actually do time and time again. But it's what a Christian, covenant marriage is about.
However, I can recall times when it felt like we were two VERY different people trying to make it work. Feeling so opposite, as if on different sides, all I could see were our differences.
I remember vividly the day I was hit over the head with this idea of ONENESS in our marriage. I re-postitioned myself to be ONE with him, a unit, a team… and not only my perspective changed drastically, but our marriage did too. And it grew.
"For our struggle is not against flesh and blood, but against the rulers, against the authorities, against the powers of this dark world and against the spiritual forces of evil in the heavenly realms." Ephesians 6:12
We must remember, we don't fight against flesh and blood; our spouse is never the enemy. Sin is the enemy and we ALL struggle with it. Things like selfishness, entitlement, high expectations, unforgiveness, etc….get in the way of a thriving marriage.
The enemy is also the enemy and he HATES marriage. He wants us to quit, to give in and give up. He wants us on different teams than our spouses. He doesn't want us living as ONE, because that is how God calls us to live and that is where the fruitfulness lies.
Our oneness honors God because it reflects His purpose for marriage. Our love for one another does the same because marriage is a picture of the Gospel.

Tweet
So in your marriage…are you living as ONE? Or has the enemy and/or sin drawn a wedge between the two of you? Are you living separate lives, each going the opposite direction it seems? I encourage you to change your thinking. Think of it as a war – gird your loins, draw those weapons and fight. You and your husband are on the same team. Reposition yourself, encourage him to do the same. Get on the same side of the fence and your fight will be more powerful. Change your mindset to be on the same team, fighting for the same thing- your marriage. And not just a marriage, but a growing, thriving, flourishing marriage. It's what we all want isn't it? It's what the Lord wants for us too. He designed marriage, it's a good thing between a man and a woman.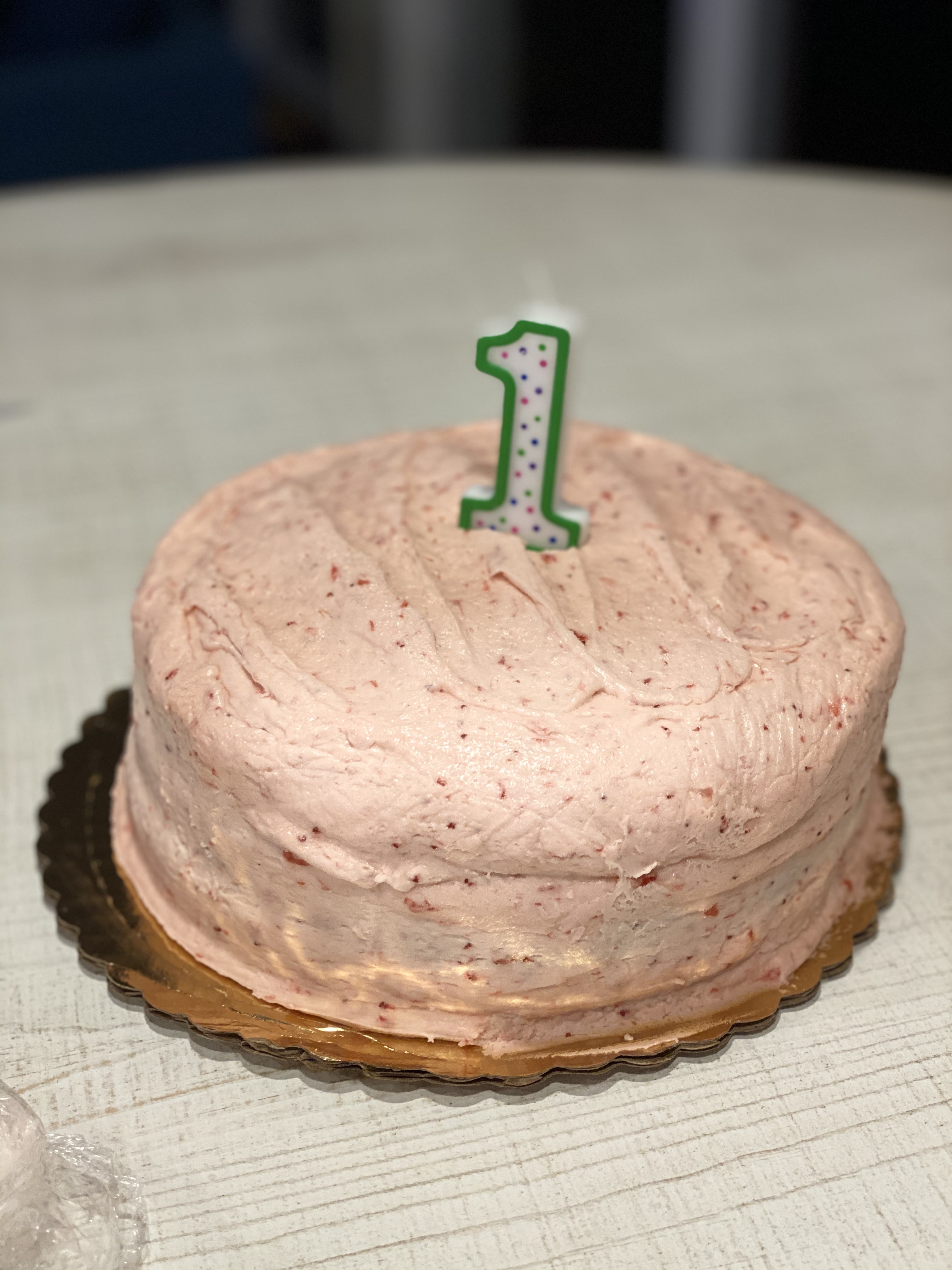 This weekend, as we blew out the single candle, we each made a wish (or a prayer is what I like to say). We celebrated 18 years of marriage (21 years of total togetherness) and prayed for many, many more. We thanked God for the blessings over the years, especially in our three children.
I prayed before one meal, he prayed before another. Our prayers and hearts were met with the grace of God. His grace over the last 18 years, His grace for today and His grace for many more years to come. His grace giving us strength, stamina and fight. His grace calling us to pursue one another, cherish one another and truly love one another as He has called us to. To put one another first, our relationship as the priority above any other…which is hard! His work is his baby, our babies are my baby…we are spent all day long and there's often little left for the other when we cross paths in the evenings. But with prayer and the Spirit's help, we can learn to love the other more and not just give the left overs.
To end this post I want to share with you THE BEST marriage book I have ever read. The Meaning of Marriage by Tim Keller.
Go get this book! If your marriage is great, go get it. If you're hanging on by a thread, go get it. If you're engaged, dating or even single, this book is highly suggested. I pick it up from time to time to be encouraged and to revisit some amazing quotes. I'll leave you with a few.
"The reason that marriage is so painful and yet wonderful if because it is a reflection of the Gospel, which is painful and wonderful at once."

"The Gospel can fill our hearts with God's love so that you can handle it when your spouse fails to love you as he or she should."

"Seek to serve one another rather than to be happy, and you will find a new and deeper happiness."

"Wedding vows are not a declaration of present love but a mutually binding promise of future love."

"Only if you commit yourself to loving in action, day in and day out, even when feelings and circumstances are in flux, can you truly be a free individual and not a pawn of outside forces. Also, only if you maintain your love for someone when it is not thrilling can you said to be actually loving a person."

"So, if your definition of love stresses affectionate feelings more than unselfish actions, you will cripple your ability to maintain and grow strong love relationships. On the other hand, if you stress the action of love over the feeling, you enhance and establish the feeling. That is one of the secrets of living life, as well as marriage."

"You can change your heart over the long haul through your actions."

"No other human being should get more of your love, energy, industry, and commitment than your spouse."

"A deep experience of the grace of God- a knowledge that you are a sinner saved by grace- will enable the power of truth and love to work together in your marriage."

"Christ is the only spouse that can truly fulfill us…"

"Christ's love is the great foundation for building a marriage that sings."

One more thing Keller points out in this book is the studies that reveal two-thirds of unhappy marriages will become happy within five years if people stay married and do not get divorced.
HAPPY ANNIVERSARY to my husband, Ryan. I love you forever and always.