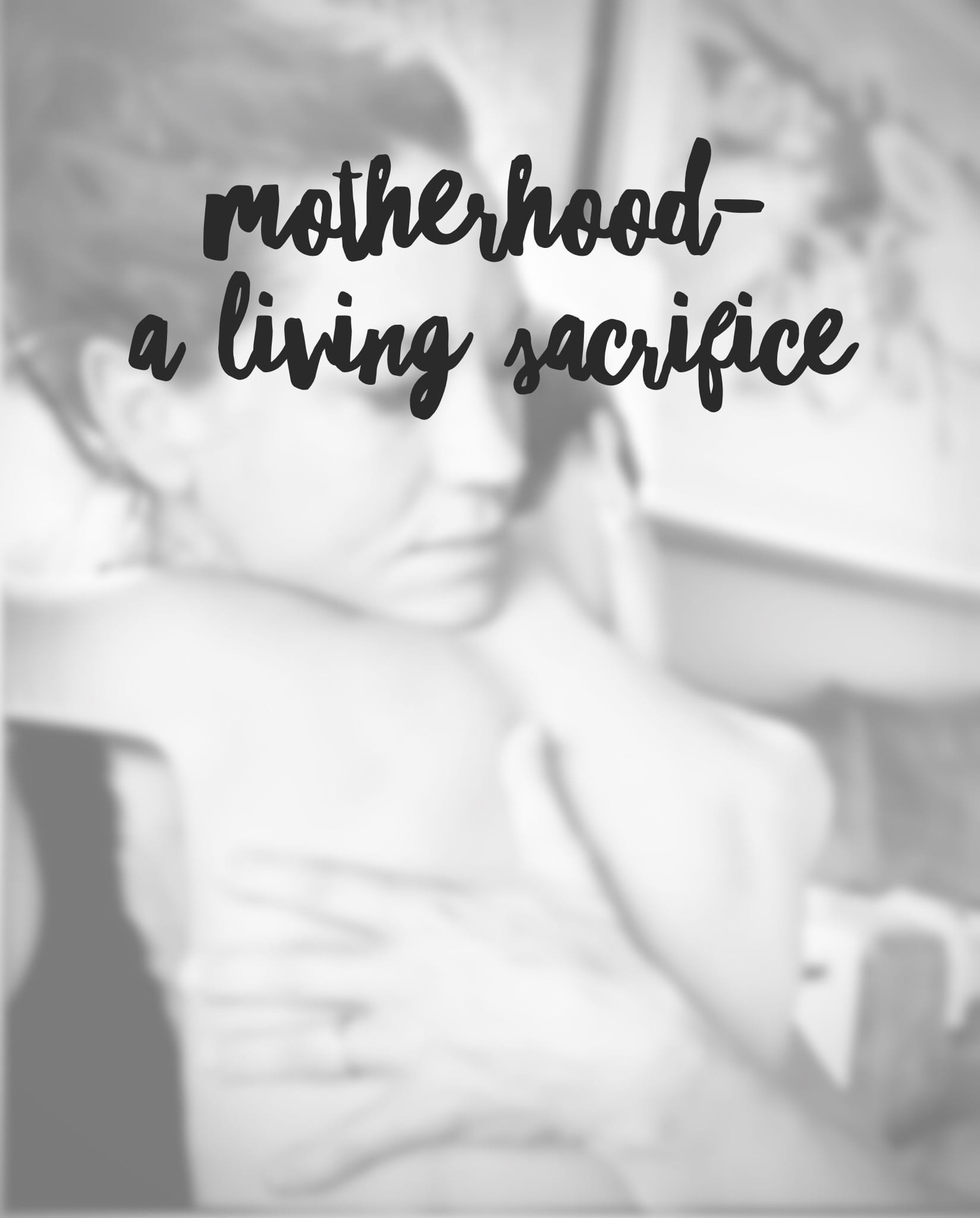 We live in a world where self is so important. Self confidence, self sufficiency, self care, self before all else, etc… all so relevant but yet quite contrary to the gospel of Christ.
Yes, Jesus was the ultimate sacrifice, paying the price for our sins, but over and over in scripture we see the proper place for ourselves and that is last.
"If anyone wishes to come after me, he must deny himself, and take up his cross and follow Me." Matthew 16:24

"Therefore, present your bodies as a living sacrifice, holy and acceptable to God…" Romans 12:1
Motherhood is a high calling of putting ourselves last, of putting our children, our blessings from above, before our wants and needs. Of dying to ourselves and thinking of them first. Everyday we have choice to sacrifice ourselves for the good of our family. We can prayerfully consider how we can deny ourselves in certain situations and go God's way.
For me, dying to myself as a mom means missing out on events that cut into my family time. It means saying, "No" a lot to others. It also means dying to my desire for control, dying to yelling (such a struggle sometimes!) and putting down my phone (another struggle!). It also means putting my selfish desire to hurry up with bedtime so I can read a book or watch TV aside so I can read, pray and visit with each child. It also means to quit wishing this season away because it is often so hard, chaotic and exhausting.
It's a continual death and one we will never quite master, but with the Lord's help, we can do it better, we can be less selfish, we can be more like Christ.
Just as motherhood is a high calling, so is following Christ and we have a choice- sacrifice or self? What will we choose today? Where can we deny ourselves and put others needs truly above our own? How can we present our bodies to Him today to be living sacrifices for Him?
Father God, you are so gracious in all things- THANK YOU. I praise you for the blessing of motherhood. I pray we don't take it lightly and we allow You to show us our selfishness so we can sacrifice instead. Help us to put our children and families before our own wants and desires. Help us to cherish the moments with our children and not wish for a different season. Thank you for being our ultimate sacrifice and paying the price for us. You are a good, good Father. In Jesus name I pray, AMEN.