It was Christmas Eve. There had been a situation and I was extremely angered by it. Looking back, it didn't warrant that much anger…but we live, and we learn, don't we?
Anyway. Angry was I and I didn't just keep that anger in. I let anyone and everyone in my path have it, even taking it so far as to leave the situation. I just needed to find the Lord and be near Him. To feel His presence and to let Him calm me. So, I headed to the local Catholic church because I knew it would be open at 3pm on Christmas Eve and wasn't sure about our home church.
I huffed and puffed and made it there safely, my baby in tow, wondering if jumping in the fountain of holy water would take care of my heart situation. While knowing water wasn't what I needed but just God, Jesus, His Spirit and a big dose of humble pie.
I took a seat in a pew and wouldn't you know it, there was a group of children singing carols-practicing for an evening performance. I sat, letting my baby play in the floor below me, hoping no one would even notice me, and I cried.
Tears rolled down my cheeks as the sweet sound of children singing flowed through my soul. Words about my Savior, His humble beginnings, His love for us. As I quieted my crazy and humbled myself, His presence was so vastly known to me; although I felt such shame and regret for my behavior.
I remembered the verse my discipleship group and I had recently memorized:
"Those who look to Him for help will be radiant with joy; no shadow of shame will darken their face." Psalm 34:5
Ouch, it stung.
Shame had darkened my face because I let my anger rule my moments and hurt others in the process. Shame darkened my face because I was full of pride and selfishness. Shame darkened my face because in the heat of the moment I did not look to God. I could've continue to let shame darken my face, but I looked to Him with a broken and contrite heart, for help.
And help me He did.
I collected myself and the wandering baby, and drove quietly back home to apologize for my outrageous behavior.
While not grateful I had stormed out of the house, I was grateful for some time to clear my head and for a church with open doors on Christmas Eve filled with the sound of children singing. It was me looking to Him and Him helping me. It was me getting to a place of humbling myself and being radiant with joy, even though radiant and joy are not two words that come to mind when I reminisce about the situation. However, in humility, I sought the Lord and found Him. I looked to His radiant face full of joy and therefore was somehow reflecting His Light. Now, did it really require me driving to a church to find Him? Of course not, but my first full sentence as a kid was "My go church all night", so I know if I'm grappling for Him when the chaos and my sin are ever-abundant and swirling around me, I will find Him at church (and quite often in my pantry!). Thank you, Jesus.
In the last year, I have often thought of this verse; it's actually in a frame in my closet it means so much to me.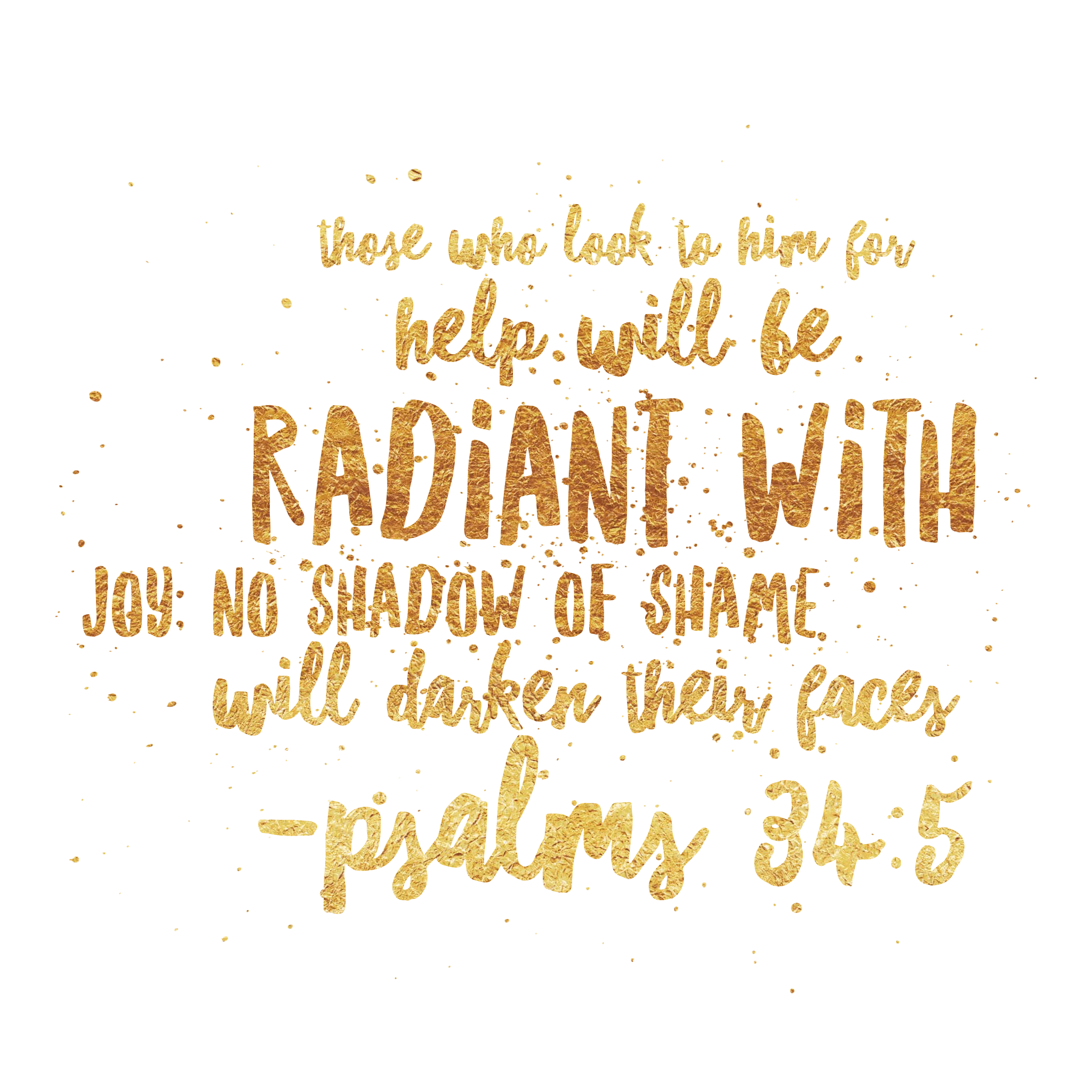 In fact, just this morning as one child was having a meltdown I recited these words out loud, "…those who look to Him for help…help me Lord...". Just as His Word promises, He heard me and I let Him help me turn a frustrating situation into laughter and joy.
I'll write it again for us…
"Those who look to Him for help will be radiant with joy…"
Yes, Lord, may we all look to you with humble hearts eager to seek your radiant face for joy, calm, love and grace. We need your help for this journey! Help us to remember a broken and contrite spirit You do not despise but work mightily in. Help us to stay in this place as we enter the very busy season of Christmas. Help us to keep our eyes turned upon your wonderful face and ponder the reason for this season. In Jesus name I pray, AMEN.
Take a minute and listen to the words of this old hymn…love you friends.