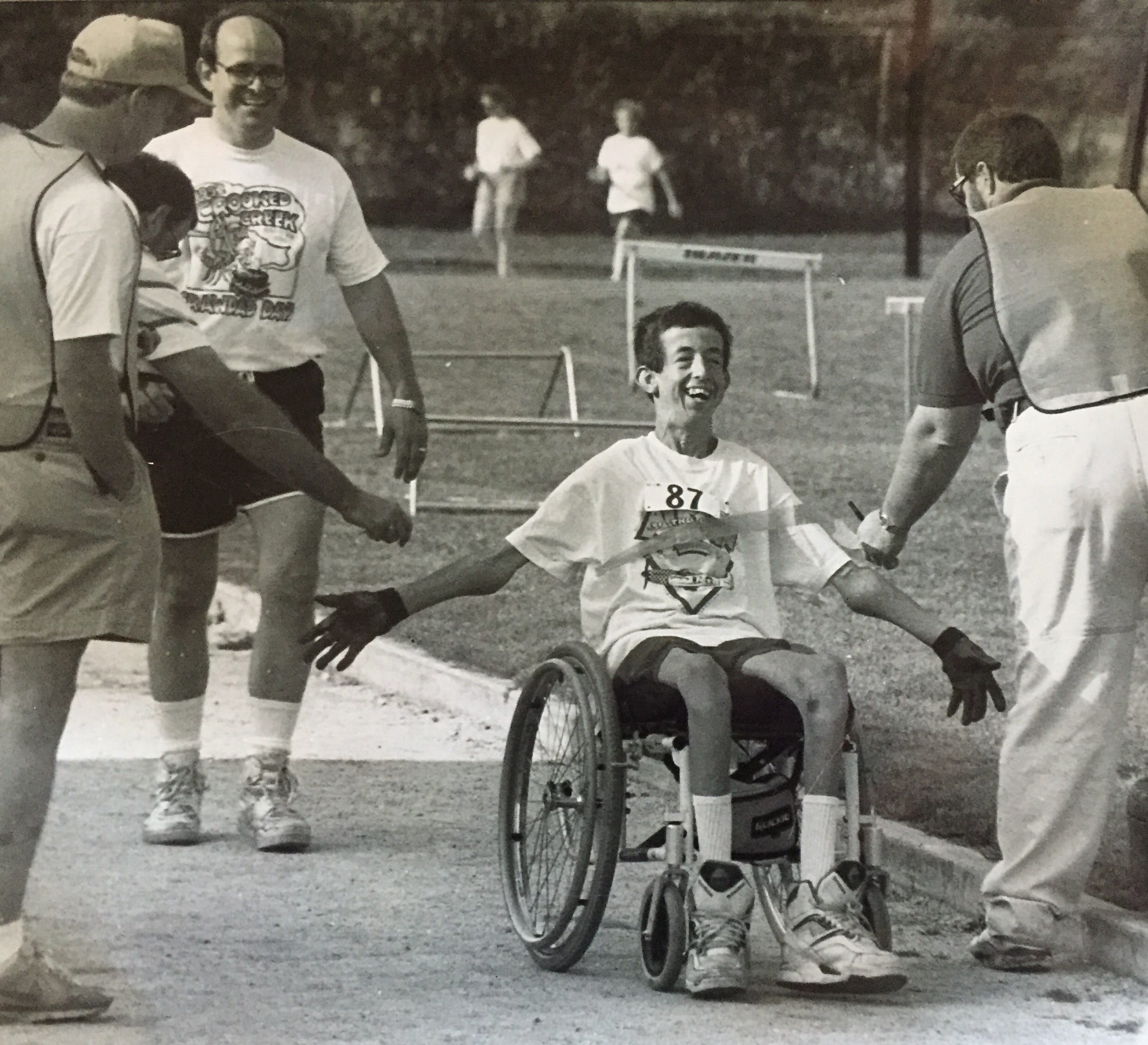 Memories of Daniel, Nine Years Later
A friend told me once that whenever he thought of our son, Daniel Sprott, he just could not help but smile. Stories of Daniel's wit, wisdom, escapades and antics, reflect a joy of life that gave each of us in his family great strength and solace. His physical shortcomings, his wheelchair or crutches, his multiple surgeries, his daily pain, nothing seemed to disturb his calm peace with himself and his life. His message to us all: Never judge anyone by appearance—look in their heart, instead. "You cannot tell a book by its cover," I've heard him say.
When Daniel was six months old, he was hospitalized in Little Rock and his health was declining daily. A doctor told me to prepare for Daniel to die. Well, Daniel fooled him by 29 years! He loved fooling doctors.
In 1990 or so, when Daniel was an early teenager, he told me he wanted to enter the Five K race at a Festival we have in our small town, in his wheel chair! So he and I signed up, the ONLY wheel chair entrant. We started the race at our Community College, and I pushed him to the top of Harrison Hill, the highest point on the highway in town, and off he went, just Daniel and his chair, about 25 miles per hour winding down the Hill. I didn't catch back up with him until we were in the football stadium, rounding the track to cross the finish line in front of the stands, where they were playing "Chariots of Fire" on a boom box.
After the race I overheard two runners talking. "How did you do," asked one of them. The other said "Well, I thought I was doing pretty well until some kid in a wheelchair came zooming by me like I was standing still!"
Daniel zoomed right past a lot of us. But on the morning of October 19, 2006, I looked at Daniel's lifeless body lying in his bed in our home, and knew that Daniel was gone. I did not want him to be gone. There were things unsaid. There was no "Good bye."
In the hours that followed my acceptance of Daniel's passing, my mind returned to our many trips together: to the ranch, to St. Louis ballgames and museums, to NASCAR races at Bristol, Kansas City and Talledega, to San Francisco, Atlanta and Washington, to airshows all over the country, and to work together nearly every morning. He and I had plans for many more trips together, and there were so many things I wanted to give him to make his life a little better, a little more joyful. I wanted to make his life the very best it could be.
But I could do no more, for he was gone. I did not want him to be gone. And yet, I know he is now with a Father who can accomplish more than me. That Father has given Daniel a perfect body, a heavenly body he will enjoy for eternity. Think of it! Daniel can RUN in Heaven! No wheelchair! He is perfect, and all who see him there see perfection, no flaws and no pain. Thanks be to a God who can finally fulfill the dreams of this earthly father, and make Daniel's life the very best it can be. This is the hope our family has, the assurance we pray each of you hold in your families, too.
No, we did not want Daniel to be gone. But we entrusted his spirit to the Heavenly Father who can do all those things this earthly one wanted for him, but could not complete. When we think of Daniel today, and his joy of life, we just can't help but smile. Thank you, my son, for the example you have left for us.
"And we know that all things work together for good to them that love God, to them who are called according to His purpose." Romans 8:28